Mercedes 1990-02 SL 300,320,500,600,Plastic Window GR Cloth Black
Mercedes 1990-02 SL 300,320,500,600,Plastic Window GR Cloth Black
Includes Rear 3-Window Assembly. Original style one-piece (no deck seams) front top section, as adopted by Mercedes Benz in 1992 for model R129.
Product Code:
TOM2042RBKB
Additional Information
Rear window section has flaps to wrap around upper rear bow straps used on early applications. Cut flaps off if not needed. Original style elastic. PolyOne/O'Sullivan 50 gauge plastic windows. Reusable metal stiffener bars for rear window not supplied.
GR Sonnenland Classic German Cloth. Polyester/Acrylic Blend laminated to Black 100% Cotton Dobby Backing.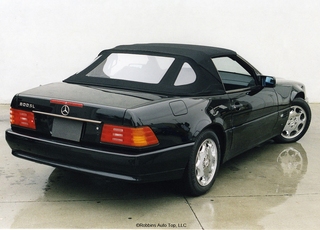 *Photo may not be accurate depiction of colour.
Related Products