Suzuki Vitara Auto Top 1989-94 Top Crush Grain Vinyl Black **Obsolete**
Suzuki Vitara Auto Top 1989-94 Top Crush Grain Vinyl Black **Obsolete**
Geo Tracker, Suzuki Sidekick; Suzuki Vitara, (Europe & Australia), Suzuki Escudo (Japan)Top. Non-original plastic extrusion snaps to front bow. All seams topstitched and heat-sealed, plus reinforcements added for extra strength. Original style plastic cor
Product Code:
TOSV7350BKB
Additional Information
Original style separating. Coil Zipper in rear window. Zipper Slide on Top. Unzips right to left when facing vehicle from rear. Dual quarter windows on each side. Regalite B.U.V. Plastic used in side windows and rear plastic window.
Installation instructions supplied. Must reuse factory stiffener rod. (Suzuki dealer part no. 78399-60A00).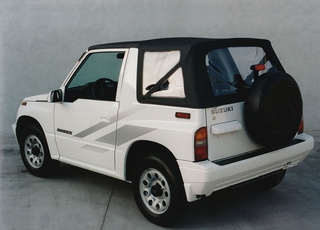 *Photo may not be accurate depiction of colour.
Related Products