VW Golf 1995-2000 Top SF Cloth Black **Obsolete**
VW Golf 1995-2000 Top SF Cloth Black **Obsolete**
Volkswagen Cabrio, Golf III (Europe) Top. Made as original with plastic extrusions, no deck seams, and no binding. Top fits to factory glass window.
Additional Information
Requires 60 wide topping to manufacture. Cabrio, Golf III Headliner (HL VWB, VWG). Cabrio, Golf III Side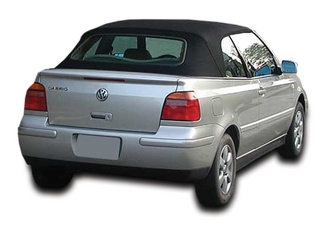 *Photo may not be accurate depiction of colour.
Related Products