VW Beetle 2003- On Manual Frame No Zippers A5 Cloth Black **Obsolete**
VW Beetle 2003- On Manual Frame No Zippers A5 Cloth Black **Obsolete**
Volkswagen New Beetle Cabrio Top with Heated Glass, for MANUAL top frame only. Small front top pad with extrusion, and welt cords sewn to top, which attach the top to the frame and main pad. No zippers. Does not include headlining.
Product Code:
TOV2068ACBKB
Additional Information
Made with original style metal brackets to connect to control arms on top frame, which guide glass when top is operated. Tops manufactured starting in late May 2008, are made with original style metal headlining retainer brackets around rear windows.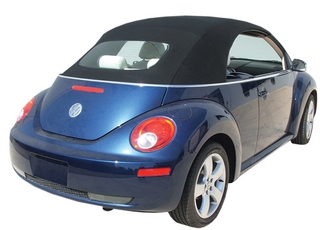 *Photo may not be accurate depiction of colour.
Related Products